Today I'm linking up with Jenni at Story of my Life for her
May blogging challenge.
I haven't been blogging every day in May like everyone else, but I'm picking and choosing some days to play along. :)
Today's prompt is all about my most embarrassing moment.
Let me preface by saying I don't
normally
get embarrassed.
That being said, here is my one and only most embarrassing moment. Probably the only moment I can remember in my life actually being embarrassed for a second before laughing uncontrollably at how funny the situation was.
It was my junior year of college. I went to a small, pretty conservative, college and I lived in an apartment with one of my best friends…Who I had just learned had an obsession with Lysol wipes. This is no joke, she went through a package a week, minimum.
Now this apartment of ours looked out over an alleyway, but another apartment was right across the alley so our windows lined up perfectly. This didn't normally deter me from my everyday activities, see exhibit A:
Just a little afternoon Wii Fit sesh. No biggie. To the left of this picture was our kitchen, and there was a big counter separating the kitchen and living area.
One night we were gathered in the kitchen when my dear roommate decided to start Lysol wiping the counter for the 5th time that day. I'm not over exaggerating.
I guess I was feeling especially spunky that, so I jumped up on the counter and started dancing around yelling, "Lysol this!!" Now I've got some great moves, let me tell you. Comparable to this:
via
All of a sudden, mid-dance, I realize that the curtains are open and not only are the 4 neighbor guys from the apartment next-door watching my little routine… They are having a
BIBLE STUDY
in their living room…and all of them were watching me and laughing.
I immediately collapsed on to the floor and started laughing so hard I was crying.
To make matters worse, a few minutes later we heard a knock on the door. I looked over at the apartment and all the guys are gone. I begged my roommate to not open the door, but of course she did.
The guys from the Bible study started flooding into our apartment applauding me.
I can't make this stuff up, you guys. I died…
And then I died a little more each time I saw one of those guys on campus and was reminded of my shenanigans.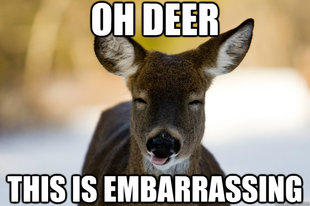 via
Now I hope you'll share yours with me…