Sometimes it's hard for people to feel worthy of living the life God called us to live.
I get that.
I have days where I feel that I'm nothing special, nothing more than an average lady. But is that who God created me to be?
No! Here's proof:
"So God created mankind in his own image, in the image of God he created them; male and female he created them." Genesis 1:27
When I look at that verse I admit it's a bit intimidating knowing that God created little ol' me in his image. That's a lot to live up to! But when I step back and take an outside glance at myself as a person, I notice a few qualities and characteristics that I know God gave me… that are of Him, gifts that I can use to draw others towards his glory.
via
I am creative.—I love doing fancy little DIY projects like my beloved chevron wall, or even just doodling or making a collage. I am drawn towards these types of projects, I have an innate sense of creativity.
It doesn't take much to realize that God is not only the Creator of all things…but he is pretty dang creative in how he did it. Take the human body for example, we are intricately designed to function the way we do… That must have taken a lot of thought and creativity. Not only that, but take a look around at your surroundings…the clouds, the trees, the mountains, the ocean… I could go on and on, but they all were created so majestically to point us towards him, our creator.
via
I am compassionate.—I have a heart for serving others. I connect with others easily and I am usually that person that people tend to divulge their secrets and problems too.
It may seem obvious to some of you in your life already, but God has always been extremely compassionate. There are many stories in the Bible about Jesus' compassion for others and him healing many after knowing their stories.
I am patient.—My husband may beg to differ on this one, but I am thinking more of in terms of the kids I am around. I have a lot of patience with kids, I love to hang out with them and see their joy for life!
Like the compassion, there are many instances of God's patience in the Bible… but in my own life I would say God has been extremely patient. In certain times I had known what I should be doing, but have strayed from it because I was scared. God was always patient, he continued to pursue me and to lead me down the path he set for me. His grace and patience throughout certain times of my life have been evident and I strive to have this kind of patience with others. :)
Finally, above all…I love to love others—I love to people watch. This sounds silly, but it is just what I do…and probably the reason I love reality tv so much. I love to try and get to know people and understand why they are the way they are, and they do what they do. This goes along with the compassion, but I just have the ability to love everyone!
This is a given, God loves me…and you…and everyone! That is why we are here, and why we were created in his image. :)
"I praise you because I am fearfully and wonderfully made; your works are wonderful, I know that full well." Psalm 139:14
God created us in His image, and because of that I choose to try and be more Christ-like each and every day.
God doesn't call us to be perfect people because that is impossible. But he asks us to use our God given talents, the gifts he gave us in his likeness, to bring him glory.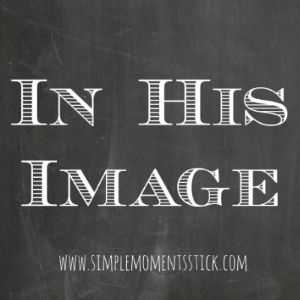 This post is written for a link-up hosted by Susannah! Be sure to check out everyone else's take on being made in His image here.
I also love this post that fits the theme over at relevant magazine.