source
Happy Thanksgiving!
Today we are spending time our loved ones truly giving thanks for all the blessings in our lives. Hope you are able to do the same! :)
--------------------------------------------------------
Today is the final link-up for my 30 Days of Thankfulness. I realize it has only been 28 days—but that was poor planning on my part. :) Nonetheless I am going to continue to find that little thing I'm thankful for each day beyond this link-up. Thanks to each and every one of you who took this challenge with me to remember the little joys in each day, I have really noticed the difference… I hope it's been just as great for you too. :)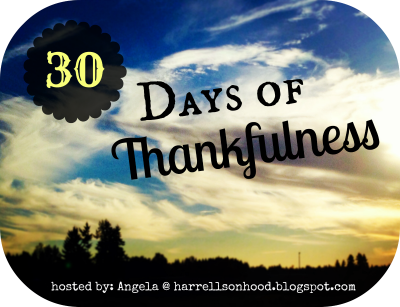 November 22nd: Today I am thankful for COFFEE! Obviously I'm a huge fan…and some days coffee is just that little joy I need to turn my day around. :)
November 23rd: Today I am thankful for heated seats in my car. It's a little luxury that I absolutely appreciate every single day.
November 24th: Today I am thankful for soccer. I don't love watching soccer, but Zack does… and I love how much joy it brings him.
November 25th: Today I am thankful for family game nights. We used to have a lot of these with my cousins, and they were so fun!! But tonight we had one with my immediate family and let me tell ya… we are 5 competitive people! Lets just say there was almost blood drawn during an intense game of spoons.
November 26th: Today I am thankful for ballet. This is weird because I never did ballet—but I always wanted to be a ballerina and am obsessed with watching ballets, movies about ballets, etc. Lately I've gotten sucked into this aol docudrama series… have you seen it?! It is SO good.
November 27th: Today I am thankful for family within driving distances. Zack's family lives 5 hours away, and I am thankful we are able to spend Thanksgiving with them this year! A lot of people aren't able to spend the holidays with their families because they're spread out all over. Most of our family is in Oregon and we are so thankful for it!
November 28th: Today I am thankful for Turkey. Duh. :) And these delicious cookies which I made for today's festivities!
--------------------------------------------------------
What are you thankful for today?!
Make sure to link your final post up! :)