I am obsessed with Christmas.
I honestly can tear up with excitement when I think about how close we are getting to the holiday season!
And let's not even talk about my excitement over this little red cup making it's yearly debut…
With that aside, I want to make sure that I don't skip over Thanksgiving, because I am truly blessed and thankful for so many things in my life. In honor of this, I am recognizing one thing each day that I am thankful for… and I will post each week's lists on Thursday. :)
Here's my first week…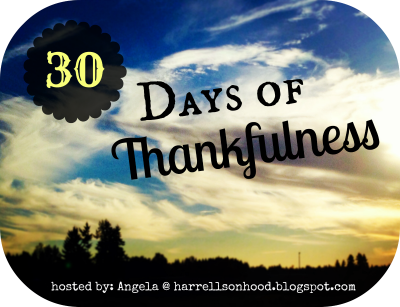 November 1st—I am thankful for my faith—
for Jesus and the freedom that comes through him.
November 2nd—I am thankful for my big crazy family.
But
I've made that clear already
. :)
November 3rd—I am thankful for my husband.
He is my family, but he is also my best friend and love of my life. He is just the best.
November 4th—I am thankful for my friends.
Thankful that we can stay in touch despite living far apart.
November 5th—I am thankful for my parents.
They provide me with endless love and support and are constantly teaching me important things that I never knew I needed to know. :)
November 6th—I am thankful for our cozy little home.
Thankful for a place to live, heat, and freedom to do the things we want to do to make it feel like home.
November 7th—I am thankful for my car.
Living in the middle of nowhere makes a car necessary. I am seriously grateful to have a running car without (too many) major issues.
What are you thankful for this week?

Feel free to grab the button above and link-up with me each Thursday in November: