I am truly blessed and thankful for so many things in my life, and in honor of this I am recognizing one thing each day that I am thankful for. I will be posting each week's lists on Thursday.
Week three of counting my blessings on a daily basis… and guess what I've noticed?
My first instinct when thinking of what I'm thankful for is a person that I saw or spoke to that day. As I mentioned last week, I'm going to try to not list people mostly because it's too easy… But my second thing that comes to mind besides people?
Food.
This girl likes to eat… and I am soooo thankful for all the delicious food in my life. Who knew that opening my mind up to what I'm thankful for beyond people and food would be so difficult?! :) So silly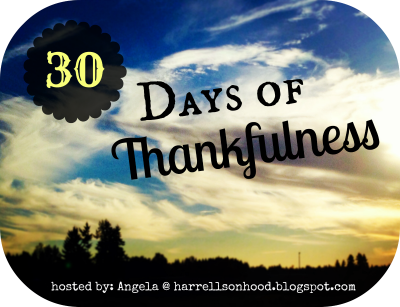 November 15th—I am thankful for water.
To drink, to bathe in, you name it. When I was in college I the opportunity to intern at
a pretty amazing place
. One of my projects there was to research all the logistics for building a well in Mozambique, Africa. Not only was it a huge learning curve to try and figure this out… it made me extremely grateful for the easy, unlimited, access to clean water that I had—amongst many other things. I could write a huge post dedicated to the things I learned during this internship, but today after relaxing in a long, hot, shower, I am extremely thankful for the ability to do so.
November 16th—I am thankful for CHRISTMAS!! I've been bottling up my Christmas cheer waiting for after Thanksgiving… but after today I can't help it!!! (I wrote about this yesterday… check out that post here!)
November 17th—I am thankful for a certain pink and purple pencil box. In first grade one of my dear friends Brittney and I had matching pink and purple pencil boxes on the first day of school. We bonded instantly and have now been friends for 20 years!! Today is her birthday and I am sooo thankful for the day she was born… and the pencil box that bonded us together. :)
November 18th—I am thankful for heat. I am cold allllll the time. I would much rather have a higher electricity bill than be freezing all the time. Totally worth the money… especially when you live in a place that is cold and rainy 75% of the year.
November 19th—I am thankful for kind people. Working in the customer service industry is rough…there are a lot of cranky people out there. Today however, was one of those rare days where most of the people were just extremely friendly and went out of their way to be nice. I love those days… and I want to make more of an effort to be that person when I'm interacting with strangers too.
November 20th—I am thankful for quiet mornings off of work. I love waking up on my own time (which is 8am these days, unfortunately…) and just lounging around. I love making coffee and spending some time reading my Bible. Most mornings I wake up to an alarm clock and am rushed out the door, so the occasional morning off is rejuvenating.
November 21st—I am thankful for Thursday television. I feel a little pathetic writing this… but it's honest. Grey's Anatomy, Scandal, Parenthood… all shows that I record on Thursday that I look forward to watching throughout the week.
---------------------------------------------------
What are you thankful for this week?
Feel free to grab the button above and link-up with me each Thursday in November: