In case you missed it, last week I kicked off the first week of my 30 Days of Thankfulness link-up. I am truly blessed and thankful for so many things in my life, and in honor of this I am recognizing one thing each day that I am thankful for. I will be posting each week's lists on Thursday.
If you haven't started, it's not too late!
I have loved reading everyone's posts about what they are thankful for. I highly encourage you after linking up to click around to the other posts that have been linked up. It's such a great experience and you just can't help but smile after reading so many positive things!
One thing I've noticed personally is that I started thinking too much and wanted to list every individual person in my life—because I am thankful for them of course… but I myself want to focus more on the little joys of each day. Finding the little things that I am thankful for that can be unique to the given day.
So that's why you won't see specific people on my list. Just know I'm always grateful for them. :)
So here's the last week's list, folks…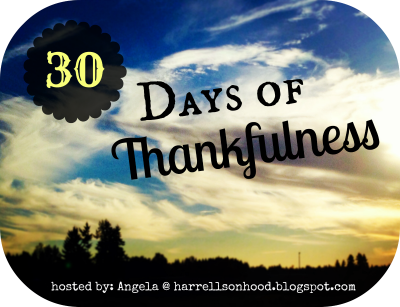 November 8th—I am thankful for gummy bears. I am obsessed with gummy bears lately, and luckily they are cheap because they are the perfect little snack for a long ride home. Zack and I like to play a game where we try and guess the color we are eating without looking at them… we have so much fun together. :)
source
November 9th—I am thankful for my computer. I just finished creating a lovely little invitation for my sister's baby shower and I am just so thankful I have this machine that helps me utilize my creativity in so many ways!
November 10th—I am thankful for my job. I love getting up and going to work with my best friend every day. I love that we have a career that provides the kind of life we want to live…and that it challenges and fulfills us on a regular basis.
November 11th—I am thankful for sweatpants. This is self-explanatory. After a longgggg crazy day there's nothing better.
November 12th—I am thankful for naps. To be honest I usually hate naps. I hate the way I feel after I take them. But some days they are just necessary, and today was one of those days.
November 13th—I am thankful for days out with my mom and sister. Today we had one of those days, just the 3 of us and it was a blast!
November 14th—I am thankful for Ninja Turtle Bandaids. If you read yesterday's post you already know how excited I am about these…What you don't know is that due to an incident involving a scarecrow and a reckless shopping cart (long story) I am now proudly sporting Leonardo's face on my left arm.
---------------------------------------------------
What are you thankful for this week?
Feel free to grab the button above and link-up with me each Thursday in November: