It's that time of the year again, September 30th marks Zack and I's 3rd wedding anniversary! (And unofficially, 6 years since we first kissed!!)
This year we have been extremely nostalgic because it will be the last year celebrating as a childless couple. :) We can't wait to have this baby boy added to our little family but needless to say, things will be very different around here.
Each year I have tried to stick to the "traditional" anniversary gift guides, and have so far been pretty successful in finding gifts that both fit the theme, and that Zack has loved. I've posted previously about my first and second anniversary gift ideas, (paper & cotton) and they continue to be some of this blog's most popular posts! It looks like I'm not the only one that struggled to come up with creative gifts that fit the traditional theme.
This year the gift theme is "leather." More exciting than last year's cotton, but not as easy to be creative as year one's paper.
My original plan was to buy Zack a watch. He has a watch that he loves, but it hasn't worked for a couple years… so I thought it was about time for a new one. Creative? No, but it was a gift I knew he needed. This however changed when Father's Day rolled around and his mom bought him this awesome wooden watch…
Not only was this such a great gift in general, he loved it way more than any leather watch I would have been able to find. (Mom for the win! :)
So it was back to the drawing boards…
Here's what I ended up with:
(I am posting this prior to actually giving it to him on the 30th… so if you're reading this and you see/talk to him, don't tell him! :)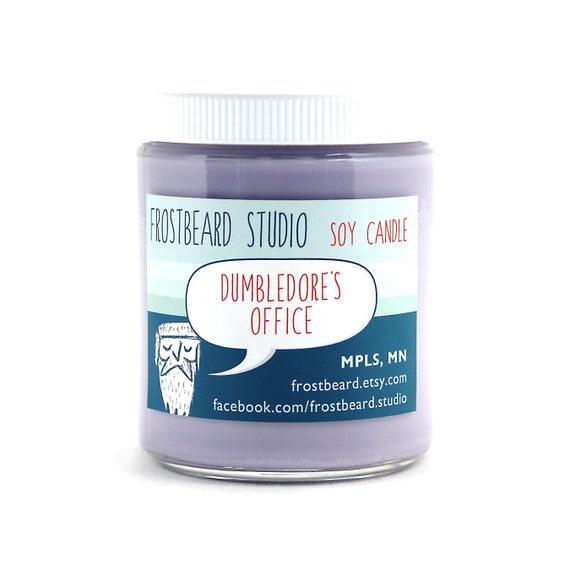 Dumbledore's Office Candle via Frostbeard on Etsy
I found this candle when I was searching for unique "leather" gifts. As I've mentioned before here and here, Zack and I have loved listening to the Harry Potter audiobooks in the car during our longer car rides. Now that we've finished the series we are so sad!! But I can say Zack is almost as big of a HP fan as I am. :)
One description that I read of this candle scent said, "Cedarwood, Vanilla, Fireplace and Lemon with a hint of leather." After I purchased the candle the "leather" part of the description disappeared… so maybe this is a bit of a stretch? I am going to call it good because you know Dumbledore's office was filled with tons of leather bound books, it had to of affected the scent a little. Right? Oh well, it's the thought that counts. :)
Chelsea Shorts via World Soccer Shop
This is not a leather gift, nor is it a creative one… but Zack's current pair of Chelsea shorts are worn, stained, and ready to be retired. It may not be the most innovative idea, but it is something I know he will love.
----------------------------------------------------
Here are some other third anniversary gift ideas that I found that are more fitting for the traditional leather theme:
-one- This leather luggage tag from Exsect would be the perfect gift idea for the traveling couple! I love the personalization of the anniversary date, and then adding the unique coordinates makes it extra special. I would love to do the coordinates where we got married, or maybe even where we took our honeymoon!
-two- For your book loving husband or wife, this Leather Bounded Book scented candle from FoxyFrogScents would be such a great gift idea. Very affordable too!
-three- I love the subtleness of this personalized leather belt from moxieandoliver. You could add your wedding vows, lyrics to your first dance song, or even just a personalized 3rd anniversary message. It's done in a classy way where it looks fashionable without being cheesy.
-four- This leather shaving bag from MarbleHillStudio is a classic choice for any husband. :) I thought about purchasing this for Zack, but he already has a shaving bag that he loves… But this one is much nicer!
-five- I love this personalized men's wallet from styledbydeniss, much like the belt above it's subtle but very special!
-six- Finally, this leather accented card from ArtBySeezal is the perfect gift for the picky husband. It sticks with the traditional leather theme, and it is so cute! There are also cards specialized for other years too like cotton and wood. It would be a fun tradition to get these special cards every year!
---------------------------------------------------------
Do you give the traditional wedding gifts? What did you give/get for your third anniversary?
Be sure to check out my first and second anniversary gift guides too!